Travelling after COVID-19
As New Zealand has now been declared COVID-free, it is possible that NZ travel will soon start becoming more accessible. This is promising, but we should also avoid getting complacent. Even when statistics support that NZ is comparatively safer than other overseas destination; travellers should continue to evaluate their personal health, individual circumstances, and any potential risk to themselves and others should the opportunity to travel to NZ arise.
I wish you all ongoing health and the freedom to be able to freely explore the world again soon. Tom.
NEW ZEALAND SOUTH ISLAND SELF-DRIVE HOLIDAY
Snow-capped mountains, sparkling glaciers, breathtaking landscapes and countless adventures. It's easy to see why the South Island of New Zealand is so popular with Australian travellers.
The short flight over the Tasman means skipping any jet lag and spending more of your valuable holiday time exploring your destination. Australian drivers have the advantage of being able to self-drive on the same side of the road without needing to learn to many new road rules. Access to your own vehicle gives you a kind of freedom that organised tours cannot provide. If you choose to self-drive, it is important to regularly monitor relevant road and weather conditions before hitting the road. Here are some highlights from our 12-day winter circuit of New Zealand's largest Island.
Day 1 – Christchurch
We landed in Christchurch, picked up our hire car, left it at the hotel and then explored a city of contrasts between historical elegance and contemporary culture. Almost a decade after the earthquakes, this city remains a symbol of ongoing urban regeneration. Signs of the devastation are still apparent with a large number of condemned and cordoned off buildings to be found scattered about including the famous Christchurch Cathedral. The devastated CBD shopping precinct has been replaced with a unique multi-level shopping mall built entirely from shipping containers and it's surprisingly trendy! Quake Museum and the Botanic Gardens are both worth a visit.
Day 2 – Christchurch to Punakaiki
Our rental car proved itself with its first successful ascension right up into the clouds! We stopped at Arthurs Pass Visitor Centre for a quick coffee and admired the cloud covered mountain peaks in every direction around us. When we reached the North Coast, it was just a short drive to the small village of Punakaiki, known for its sandy beaches, subtropical rainforests and rock formations known as Pancake Rocks and Blowholes. I recommend an umbrella while exploring this area as the weather was unpredictable and changed very fast. We enjoyed exploring these unique geological features by the coastline.
Day 3 – Punakaiki to Franz Josef
This day was more about the journey rather than the destination. The road between Hokitika and Greymouth provides great views of the wild west coast. If you don't mind stairs and would like to experience some rainforest tree-top views, stop at Treetop Walk and Café 15 minutes south of Hokitika. We eventually arrived in Franz Josef, a quaint and picturesque mountain town with easy access to the nearby glacier.
Dinner in Franz Josef – We recommend King Tiger Eastern Eating House and Bar for 4-star Asian cuisine. It was an impressive fusion restaurant with Thai, Indian and Chinese food available. Generous portions and quality food here, well worth having dinner here one night.
Day 4 – Franz Josef
Spent this day hiking up to Franz Josef Glacier, one of only two glaciers in the world where the snow level borders a temperate rainforest. We made use of our hiking shoes on rocky terrain and started walking towards the glistening whiteness of the slow-flowing ice river. It is known that global warming has heavily impacted on how much these glaciers have receded. Signs posted along the walking route indicate how much further the glacier used to reach over different time periods over history. You get an eerie sense that time is running out for these natural wonders. I highly recommend a visit to a glacier before they are completely gone.
Day 5 – Franz Josef to Queenstown
We hiked up to our second glacier – Fox Glacier – a solid couple hours hike. Once again, good sturdy hiking boots are recommended. Our efforts have paid off as we don't see ice-rivers every day, and now we have seen two in two days! There is also an option to book a helicopter tour that lands you directly on the glacier and then allows you to explore ice caves, but this activity was unfortunately out of our price-range.
Following Fox Glacier, another scenic drive followed with a stop at a salmon farm. We sampled delicious locally farmed produce. From here, if you are up for a challenge and trust your vehicle, take the shortcut through Cardona Valley. You will be rewarded with great views and mountain parrots. This is a challenging stretch of mountain road as water comes down the mountain sides and flows over the road. Wetter conditions also mean a higher landslide risk which have the potential to wash roads away. (These are also announced on daily road condition reports).
If you would rather play it safe or the road is closed, there is a more conservative route which takes a little longer. There are 30 wineries along the safer route. Go this way if you trust your driver to be able to refrain from to many tastings. How good is New Zealand Sauvignon Blanc!
As our rental car was a 4×4, we took the risky mountain road and successfully crossed all the water crossings without any issues. We had emergency roadside assistance available, but thankfully never needed to use it.
Day 6 – Queenstown
I had been looking forward to Queenstown, a trendy adventure town nestled between the Southern Alps and Lake Wakaitpu. Spent the day exploring the restaurants, shops and the nightlife. This town is largely frequented by upper-middle class snow-bunnies, so it pays to always check the prices on the menu before ordering from an establishment.
I recommend Fergberger, a local gourmet burger institution which every visitor must try despite the constant queues. Popular means tasty!
Many adventures start in Queenstown including bungee jumping, white-water rafting, heli skiing, speed boating and more. On this night we opted for bar hopping and shared dance floors with people wearing the most designer snow gear fashion I have ever seen.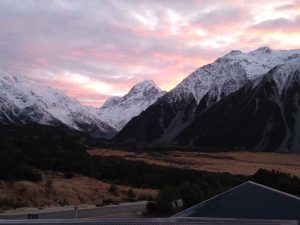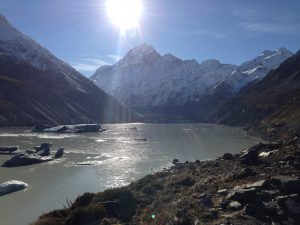 Day 7 – Doubtful Sound
I was not keen on driving with chains in heavy ice and snow, so we decided to leave the car at the hotel and booked a guided day tour to Milford Sound, one of many fjords in this area. Unfortunately the roads leading to Milford Sound snowed in and became completely inaccessible.
We rebooked the day to visit another fjord called Doubtful Sound instead. When we arrived, we had to wait for our boat, so we passed the time by building a snowman and having snowball fights. Once we boarded the boat, we spent a few hours cruising down the fjord admiring the scenery and wildlife including a huge seal colony.
Day 8 – Coronet Peak
We headed for the ski-area closest to Queenstown. We jumped in the car and drove ourselves to the slopes. Heavy snow started falling again. Applied chains to our tyres and commenced a cautious ascent up the mountain. Heavy snow days are particularly popular for skiers, so we spent quite some extra time in queues to get sized up and to obtain our gear. As it was our first time on skis, we spent half the day on beginner tracks. Eventually we got the feeling for staying upright and managed to complete some decent runs by the afternoon. Walked away feeling like we have learned the basics, although more than the one day would be needed for more dedicated skiers. Between the gear hire and the ski passes, our ski budget stretched for just this one day. Was an enjoyable day and totally worth the borderline frostbite.
Day 9 – Queenstown to Dunedin
This day has taken us through the old gold rush areas of Central Otago. We also toured a hydroelectric dam and observed how large quantities of water is used to generate cleaner power compared with fossil fuels. Who says a holiday can't also be educational?
Day 10 – Dunedin
A university-city of Scottish heritage, Dunedin, NZ's oldest and second largest city is abundant in cultural riches and widely features 19th century Victorian and Edwardian architecture.
We toured the local Cadbury factory, because chocolate. We also sampled ale from the local brewery, because beer.
Our curiosity moved us to visit Baldwin Street, Dunedin, recognised by Guinness World Records as the steepest street in the world. It was simple enough to locate it on our GPS. Upon arrival, we walked up and down this street. I would only do this once. The angle differences between the street itself and the straight level houses made for some interesting photos. Respect to the engineers who have built here.
For a special dinner in Dunedin, I recommend eating at Etrusco at the Savoy (4.5 stars). One of the best Italian restaurants I have experienced. We still talk about their wild boar ragu with pappardelle dish. We were provided with attentive service and expert wine pairings.
Day 11 – Dunedin to Mount Cook
We drove through some sheep country followed by an extended drive past the stunningly opaque turquoise coloured Lake Pukaki. Few hours later, we arrived in the shadow of New Zealand's highest peak:, Aoraki/Mount Cook, standing at an elevation of 3,724 metres. This is a sparsely populated area with structures mainly purpose built as accommodation for tourists. I could not get over the unparalleled beauty of this location.
We recommend Hermitage Hotel for a comfortable stay and for direct views of Mount Cook. For a 4-5 star special dinner option we tried the onsite Panorama Restaurant where we ordered a nice cut of medium-rare venison. Once again we tracked down a more affordable alternative, so a short drive away we discovered Chamois Bar and Grill serving all the usual cafe fare at much more reasonable prices.
Despite subzero temperatures, we were keen to hit the Mount Cook surrounding trails, so we did not waste any time. Layered up our clothing and started walking directly from the hotel. On route, we discovered large lakes completely frozen over. We spent some time bouncing rocks off the frozen lake surface which made an amusing high pitched ping sound. We also found a liquid water river with floating icebergs at the base of Mount Cook. On the walk back we made it our mission the smash the frozen surface of every frozen puddle we came across – adulting maturity is not required 24/7.
After the sun went down we joined a star gazing club aided by some high powered telescopes. This area is known to have the clearest skies, the most visible stars and the lowest light pollution. This area has been deemed the Aoraki Mackenzie International Dark Sky Reserve since strict lighting controls have been in place here since the 1980's leading to the best possible star gazing experience in existence.
Day 12 – Mount Cook to Christchurch
We returned to Christchurch airport and boarded our flight back to Australia.