Read all about COTA Insurances' Tom and his Kangaroo Island trip from earlier in 2021.
Tom Fodor is our valued, long serving insurance team co-ordinator. Tom loves travel, and in the past has shared with us tales of his favourite overseas holiday destinations.  Today, Tom shares with us his most recent adventure – his 7 day tour to Kangaroo Island, which is located 130 kilometres from Adelaide, off the coast of South Australia!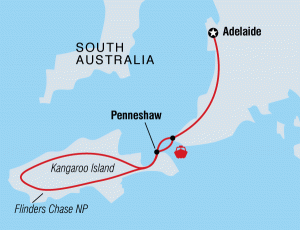 Source: tourhub.co/tour/intrepid-travel/kangaroo-island-adventure/pski-b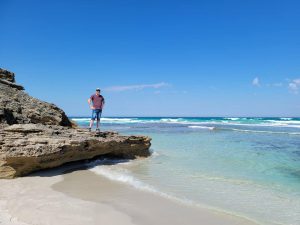 As vaccinations progress while we simultaneously live through a second year of this world-altering pandemic, we reflect on how much our world has changed.
This is no truer than for families who have been personally touched by loss and families separated from each other by entire continents and uncertainty.
We make every effort to continue our new lives. We are making considered and calculated life and travel choices. We are all risk-assessors, using any relevant information to make our own informed choices – not-far-removed from an insurance company using business resources to accurately assess, rate and price risks presented by various circumstances.
At the time of writing this, much of the country remains in lockdown. I know that all of us hope that this period will soon pass and we can resume safe travel to the destinations of our own choosing.
I was fortunate enough to undertake my trip at an opportune time, and I remain keen to travel again when possible – both here and abroad.  My hope is that my experience and information can enrich cautious future travellers with new positive plans to look forward beyond the current restrictions.
2021 marked our third trip to Kangaroo Island (or KI), therefore we knew what to expect. KI is a wonder-reserve of biodiversity and a one-of-a-kind experience for adventure, nature and re-charging of the soul and the improvement of our mental health and emotional well-being.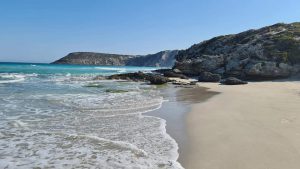 Transport/Provisions
We opted to get the car serviced, packed it with groceries, clothes and beach gear.
As KI is a remote destination, we do not advise to rely solely on pubs, restaurants and supermarkets unless you stay directly in or near townships like Kingscote and Penneshaw.
Petrol and groceries are cheaper and with a larger range available on mainland. Rental cars are available at Penneshaw ferry terminal.
If someone else doing the driving is preferred, guided coach tours departing from Adelaide are also an option.
The Sealink ferry passenger service between Cape Jervis and Penneshaw is easy and anxiety free. The passenger area is spacious, frequently sanitised and COVID-safe.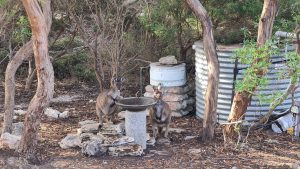 Accommodation
We chose to use well-researched Airbnb listings. Our first trip was a travel auction stay in American River. The compact and dated holiday unit served a purpose as our base of operations, however the Airbnb stays over our return trips have taken our KI experience to a new level. These were our top two stays.
#1 – Kestrel Downs – Pelican Lagoon
A secluded retreat on 40 private hectares of bushland and marine lagoon views. This was a well-equipped and comfortable holiday house hosted by the very kind Sally. We had daily visits here by families of kangaroos and wallabies coming for a drink from our birdbath. The birdbath was shared by visits from many different bird species, Google had a hard time keeping up with our attempts to identify them all! We observed fascinating social groups, others were rare/endangered and some even native and exclusive to the island. Native animals appear to fear humans far less on the island, which provides a great opportunity for close-encounters.
#2 – Serenity Cottage – Vivonne Bay
A five minute walk from what was once voted as Australia's best beach, this comfortable, cosy and quirky cottage made for a fun and memorable stay. Vivonne Bay is one of my personal favourite home-base locations on KI -The perfect beach makes you second guess if you are still in South Australia. Wallabies can be spotted at night.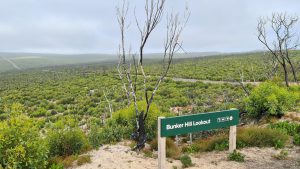 Natural attractions
#1 – Flinders Chase National Park (including Remarkable Rocks and Admiral's Arch)
The western end of Kangaroo Island features magnificent coastal landscapes coupled with vast wilderness areas and diverse wildlife. Flinders Chase National Park is the home of the iconic Admiral's Arch with its colony of New Zealand fur seals and Remarkable Rocks. We have visited this national park before and a year after the 2020 bushfires. I am still saddened by the loss caused by these fires, however we have also observed the very positive recovery of nature well under way a year later. Park entry fees apply.
#2 – Seal Bay Conservation Park
Here you can visit an endangered Australian Sea Lion population in their natural habitat. The moderate walk is suitable for most fitness-levels, so you can walk from the visitor centre down through the dunes, past the whale bones and discover seals lazing on the beach only a few feet away. This is how these animals are meant to be seen.
# 3 – Little Sahara
Little Sahara is a system of naturally occurring coastal blowout dunes located on the south coast of Kangaroo Island. Regretfully it is missing an Obi Wan Kenobi informing all visitors about how "The Sand People are easily startled, but they will soon be back, and in greater numbers." It is worth the visit.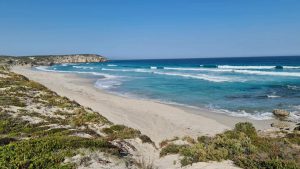 Adventure attractions
Sunset Kangaroo Safari – ATV (All-Terrain Vehicle Tour)
Where you're going on this tour, you won't need roads. Experience the best quad bike tour on Kangaroo Island, ride through native bush trails and open grassland in an area few visitors are privileged enough to see. Guaranteed kangaroos at sunset. Full training in ATV operation provided. The perfect balance between adventure, nature and horsepower.
Kangaroo Island Self-Guided Kayaking on the Harriet River
After picking up our double kayak, we set out along the Harriet River for a leisurely paddle around Vivonne Bay. Moderate to good fitness recommended.
Kangaroo Island birds of prey
With daily interactive birds of prey displays, you will meet Jedda the Wedge-tailed Eagle, Casper the Barn Owl, Banjo and Clancy the Kookaburras and many more.
Of course there is so much more to see on KI, as it is Australia's third largest island – over 100km wide and conservation parks galore. The island is home to the world's only pure-bred and disease-free Ligurian bee colony, unique wineries and cellar doors, beautiful beaches, lavender and marron farms, local arts and craft and more.
Remember to support the local businesses and community while visiting KI, as tourism is one of the main industries and with approximately 52% of their island devastated by bushfire in 2020, they definitely need the support.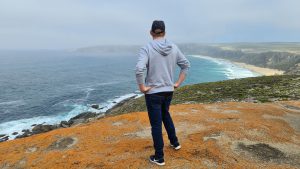 A final word
With various accommodation styles available on KI, it is important to read accommodation cancellation conditions closely, and prioritise flexible cancellation terms to avoid lost deposits.
COTA Travel Insurance includes some  coronavirus cover, however not all coronavirus related events are covered. Domestic Travel Insurance offers the protection for – to name a few – cancellation costs due to unexpected illness/injury (including from a COVID diagnosis), luggage protection as well as costly rental vehicle excesses incurred following damage to your rental vehicles.
Government intervention such as border closures are not covered; however, we have options available to ensure you can retain your benefits if travel on the original dates is not possible.
Feel free to contact myself or our team on 1300 1300 50 for a quote or further information – and we can even chat more then about all things great on Kangaroo Island!
Thomas Fodor
Sales & Operations Coordinator, Cota Insurance