Scams are on the increase with smarter and more high-tech cons that are increasingly catching people out. According to new data from Scamwatch, Australians lost over $205 million to scams between 1 January and 1 May 2022. This is a 166% increase compared to the same period last year.
The true losses to scams is likely to be much higher, as Scamwatch research also shows that only around 13% of people report their losses.
The majority of losses over this period have been to investment scams with a three-fold increase to $158 million of reported losses. While this total value increased, the number of reports has reduced slightly, indicating that on average people are recording higher individual losses.
Common scams
Scammers target people of all ages and backgrounds, however, some scams are more likely to target older people.
This is often because older Australians have accumulated greater wealth than younger people, making them attractive targets for scammers. Older Australians may also be seen by scammers as generally less internet and computer savvy or familiar with new technology.
Scammers will also scour social media and dating sites for older Australians who have recently divorced or lost a long-term partner, taking advantage of their inexperience with these sites and their often-vulnerable emotional state.
One of the best ways to beat the scammers is to be informed and aware of the latest scams that are targeting Australians. The best way to do this is to regularly visit the Scamwatch website and read about the latest scams – www.scamwatch.gov.au/ . Here are some common scams that are targeting older Australians: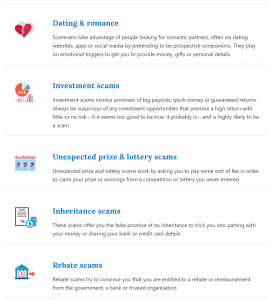 However, the scams don't stop there, there are all sorts of scams, such as coronavirus scams, fake charity scams, buying or selling scams, threats and extortion and more. Read about these at www.scamwatch.gov.au/types-of-scams.
Flubot scams
Since August 2021, many Australians have been receiving scam text messages about missed calls, voicemails, deliveries and photo uploads. The text messages ask you to tap on a link to download or access something. Doing so will download a specific type of malware (malicious software) to your device. This malware will possibly give scammers access to your passwords and accounts and other personal data that can then be used to steal your money. These are known as 'Flubot' text messages. Its strongly recommend that you never click on the links in these messages. It is best to delete them immediately.
Read more about flubot scams here – www.scamwatch.gov.au/types-of-scams/flubot-scams
Door-to-door and home maintenance scams
Older Australians may also be more susceptible to door-to-door and home maintenance scams. While many legitimate businesses sell things door-to-door, scammers also use this approach. These types of scams generally involve promoting goods and services that are of poor quality, or not delivered at all.
Scammers may try to sell you gardening or roofing services, and then bill you for additional work that you did not agree to. They may pretend to conduct a survey so they can get your personal details, or to disguise their sales pitch until they have been talking to you for a while.
Some of the warning signs you may be dealing with a scammer include:
they visit late at night, or visit you again after you have said 'no'
they don't show you any identification or give you any contact information, written quotes or receipts
they might demand that you decide to accept their offer on the spot
you may be asked for a deposit or full payment and can only pay by cash or credit card
they fail to tell you about your legal rights, including rights to a cooling-off period.
Protect yourself
Don't be pressured into making a decision. Scammers often try to create a sense of urgency through short deadlines, fake emergencies or threats of legal action.
Be suspicious of requests for money – even if they sound or look official. Government departments will never contact you asking for money upfront in order to claim a rebate.
Scammers may ask you to use unusual payment methods, including preloaded debit cards, gift cards, iTunes cards or virtual currency such as Bitcoin.
Verify the identity of the contact by calling the relevant organisation directly – find them through an independent source such as a phone book or online search. Do not use the contact details provided in the message sent to you.
Don't respond to phone calls or emails offering financial advice or opportunities – just hang up or delete the email.
Always do your own research before you invest money and check the company or scheme is licensed on ASIC's MoneySmart website.
Be wary of people you might meet on social media or online dating sites who after just a few contacts profess strong feelings for you and try to move you away from the site and communicate via chat or email.
Be suspicious of unexpected emails or letters advising you how to claim an inheritance or competition prize. Never give out your personal details and seek advice from an independent professional.
Be aware of and understand your consumer rights.
Sources:
www.scamwatch.gov.au
www.scamwatch.gov.au/news-alerts/australians-are-losing-more-money-to-investment-scams