Ngaire Hobbins, Australian dietitian, whose passion is in supporting older adults to enjoy vital, independent lives through nutrition, provides eating advice to give your immune system the resources it needs to help you fight and recover from illness, along with some of her amazing recipes.
By Ngaire Hobbins, an international authority on nutrition, ageing, brain health and dementia and an aged care consultant.
My most recent book is about dementia risk reduction, but all its eating advice also applies to giving your immune system the resources it needs to help you fight and recover from illness: good to know in these times when COVID threatens the health of so many.
Researchers have found that any degree of malnutrition worsens outcomes in people who encounter COVID19 and that does make sense: you need to be able to bring in every resource possible to fight such a destructive virus. The food you eat and the air you breathe provide everything your body, brain and immune system need to keep you well, to help you fight illness and to assist in your recovery should you become ill.
While the titles and focus of this book is on the brain, its recipes and guidance also support the rest of your body's function, including that of your immune system.
Better Brain Food is the version available in Australia, the UK and beyond.
Here are two recipes from my latest book, I hope you enjoy and stay healthy.
Middle Eastern fried eggs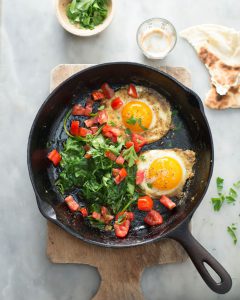 The excellent protein of eggs combines with a smattering of spices, spinach and tomato, offering antioxidants including lutein. Finish with any fresh herbs you like, we've used flat-leaf (Italian) parsley but coriander, mint or a combination is delicious too.
Serves 1
1 tablespoon butter
1 garlic clove, crushed
½ teaspoon ground cumin
1 teaspoon ground coriander
½ teaspoon salt
½ teaspoon pepper
2 eggs
handful of baby spinach
1 small tomato, chopped
handful of flat-leaf (Italian) parsley, coarsely chopped,
to serve
flatbread, to serve (optional)
In a large heavy-based frying pan, melt the butter over medium–low heat then add the garlic and cook for about 1 minute until softened: you don't want it to go brown at all. Add the spices and cook for a few moments until they start to sizzle and smell fragrant.
Crack the eggs into the spicy butter mix and gently cook until set, spooning melted spicy butter over to cook the tops.
Move the eggs to one side, add the spinach and toss in the hot butter until wilted. This should take about 60 seconds.
To serve, place the spinach on a plate, top with the eggs, pour on any remaining melted butter from the pan, add the diced tomato, chopped parsley and serve with flatbread (if using). Alternatively, simply add the tomato and parsley to the spinach and eggs and serve in the pan on a heatproof trivet.
Red potato and ricotta pancake with smoked salmon and quick pickled radish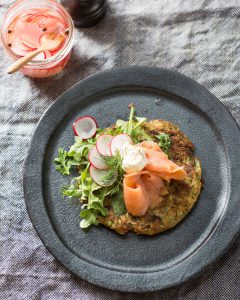 Try to find red-skinned potatoes: don't peel them, as you'll get the added benefits of the anthocyanin antioxidants in that lovely red skin. There is good protein in this dish from the ricotta and salmon, along with some bonus omega-3 fats. The zing of the pickle tops this dish off nicely.
Serves 1 
1 tablespoon caster (superfine) sugar
60 ml (2 fl oz/¼ cup) apple cider vinegar
60 ml (2 fl oz/¼ cup) hot water
4 radishes
2 red-skinned potatoes, such as pontiac, scrubbed but skin left on
2 spring onions (scallions), sliced
handful of dill, chopped, reserving 1 sprig for serving
2 tablespoons ricotta cheese
olive oil, for frying
80 g (2¾ oz) smoked salmon
1 tablespoon crème fraîche or sour cream
handful of green salad leaves
First make the pickle. In a small bowl, dissolve the caster sugar in the vinegar and hot water. Slice the radishes and put them in the bowl, making sure they're covered by the pickling liquid, then set aside.
Grate the potato, wrap it in a clean tea towel (dish towel) and squeeze out excess moisture. Transfer to a mixing bowl and add the spring onion, dill and ricotta. Season with plenty of salt and pepper and mix well to combine.
Heat a medium frying pan over medium heat, add a drizzle of olive oil, then pour the potato mixture into the hot oil. Smooth into a pancake shape about 1 cm (3⁄8 inch) thick. Reduce the heat and cook gently until the underside is golden, then carefully flip to cook the other side.
Place the potato pancake on a serving plate and top with the salmon, crème fraîche and drained pickled radish on the side. Add a handful of salad leaves, decorate with the reserved dill sprig and serve.
Please visit here to purchase my book Better Brain Food and enjoy many other nutritious recipes.
Ngaire Hobbins.