Outdoor entertaining is always fun over the holidays and warmer months, so we thought some tasty BBQ recipes might be a great idea this month. With something for everyone, from lamb burgers, grilled salads, tofu skewers to spicy chicken wings and grilled pineapple – 2 ways! Happy Grilling!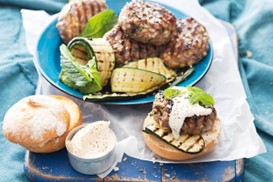 Lamb, zucchini and haloumi burgers
1 tbsp cumin seeds
1 tbsp white sesame seeds
2 zucchinis
1 red onion, grated
600g lamb mince
100g haloumi, grated
1/2 cup mint, finely chopped, plus extra leaves to serve
1/2 cup (140g) thick Greek-style yoghurt
Olive oil, to brush
8 small white or brioche rolls, split
Hummus and lemon wedges, to serve
Heat a small frypan over medium-high heat. Toast cumin and sesame seeds for 1-2 minutes until fragrant. Transfer to a bowl, combine with 1 tablespoon sea salt flakes, then set aside.
Using a mandoline or vegetable peeler, shave 1 zucchini into ribbons. Set aside.
Coarsely grate remaining zucchini, then place in a clean tea towel and squeeze to remove any excess moisture. Combine with onion, lamb mince, haloumi, mint and 2 tablespoons yoghurt in a bowl and mix well. Season with freshly ground black pepper. Form mixture into 8 small patties, then chill for 15 minutes.
Preheat barbecue or chargrill pan to medium-high. Brush burgers with oil, then cook for 2-3 minutes each side until just cooked. Transfer to a plate and loosely cover with foil.
Brush zucchini ribbons with oil, then cook for 1 minute each side or until lightly charred and tender.
Spread hummus onto roll bases, then top with a slice of zucchini and a burger. Season with reserved sesame and cumin salt, top with the roll lid, then serve with yoghurt, extra mint leaves and lemon wedges.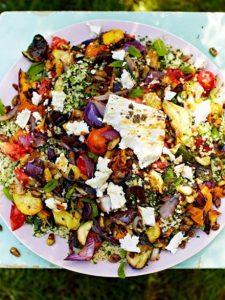 Griddled vegetables & feta with tabbouleh
½ a bunch of fresh oregano
½ a bunch of fresh flat-leaf parsley
2 red onions
1 large aubergine
150 g feta cheese
olive oil
3 courgettes (a mixture of yellow and green)
2 handfuls of mixed tomatoes
1 bulb of garlic
50 g shelled pistachios
2 tablespoons runny honey
extra virgin olive oil
TABBOULEH
250 g cracked wheat
1 bunch of fresh mint
1 big bunch of fresh flat-leaf parsley
½ a cucumber
1 lemon
Tip – use cous cous if you prefer, as an alternative to cracked wheat.
Peel and slice the onions into wedges, prick the aubergine all over with a fork and halve lengthways.
Add the feta to a small bowl with half the oregano leaves, a drizzle of olive oil and a good pinch of sea salt and black pepper. Set aside to marinate.
Next make the tabbouleh. Cook the cracked wheat according to the packet instructions, then rinse and drain. Set it aside to cool a little.
Finely chop the mint and parsley, then finely chop the cucumber.
Once the cracked wheat has cooled, mix in the mint, parsley and cucumber, a good squeeze of lemon juice and a good pinch of salt and pepper. Seasoning to taste, then cover and set aside.
Preheat barbecue to hot and once ready grill all the vegetables and garlic. Once charred on both sides, transfer them to a chopping board.
Chop up all the veg together, squeezing the garlic cloves out of their skins and squishing the tomatoes. Roughly chop the parsley and remaining oregano leaves into the vegetables, season, and drizzle with olive oil.
Carefully griddle the whole marinated feta on the barbecue for about 3 minutes (this will depend how hot your barbecue is), or until golden and crispy, then gently turn and cook for another 1 to 2 minutes.
Toast the pistachios in a small pan over a medium heat until lightly golden, then spoon over the honey and allow the nuts to caramelise, tossing regularly to stop them from catching in the pan. After a couple of minutes, tip them onto a sheet of oiled greaseproof paper to harden and cool, then roughly chop and leave to one side.
Spoon the tabbouleh onto a large serving dish, then top with the chopped vegetables.
Place the griddled feta in the centre, drizzle with a little extra virgin olive oil and scatter over the crispy smashed pistachios.
To serve, crumble the feta over the top. Delicious served with toasted flatbreads.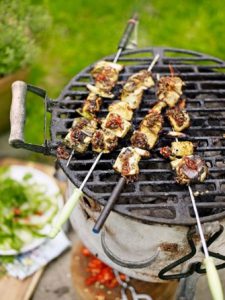 Salt and pepper tofu skewers
6 shallots
1 bunch of spring onions
2-3 fresh red chillies
8 cloves of garlic
5cm piece of fresh ginger
groundnut oil
4 tbsp black peppercorns
1 tbsp Szechuan peppercorns
2 tsp coriander seeds
1 tsp sea salt flakes
4 tbsp soy sauce
3 tbsp light brown sugar
750 g firm tofu
1 cucumber
½ a bunch of fresh coriander
2 tablespoons rice wine vinegar
Peel and finely slice the shallots. Trim and finely slice the spring onions and chillies, then peel and finely slice the garlic. Peel and finely grate the ginger.
Heat a few drizzles of oil in a large non-stick frying pan. Add the shallots, spring onions, chilli, garlic and ginger and cook, stirring often, over a low heat for 10 to 15 minutes, until soft.
For the marinade, crush both kinds of peppercorns in a mortar and pestle with the coriander seeds and sea salt flakes. Add to the pan with the soy sauce and sugar. Reduce until thick and glossy, then transfer to a small baking tray.
Cut the tofu into 2cm pieces, then thread onto 4 skewers. Place in the tray with the marinade, spoon over to coat and leave in the fridge to marinate for a few hours.
When you are ready, barbecue the skewers till crisp, basting with the marinade and turning regularly.
Use a vegetable peeler to shave the cucumber into ribbons and place in a bowl. Finely chop and add the coriander, followed by the rice wine vinegar and a pinch of sea salt and black pepper. Toss to mix and serve with the crispy salt and pepper tofu skewers.
Tip – If using wooden skewers, soak them in water for at least half an hopur first to avoid them catching on fire on the BBQ.
Soy and Butter salmon parcels
2 tbsp butter
4 x 100g skinless salmon fillets
2 tbsp low-salt soy sauce
1 tbsp honey
1 tbsp sesame seeds
2 sliced spring onions
Cucumber salad
1 cucumber, finely sliced
few drops of sesame oil
Heat the barbecue. If you are using coals, wait until they turn white. Cut four pieces of foil that will easily wrap a piece of salmon and lay them on the work surface. Spread a little butter onto the centre of each piece of foil to stop the salmon sticking. Lay the salmon on top. Mix the soy with the honey and divide it between the parcels, pouring it over the salmon. Dot any remaining butter on top and then fold the foil around the salmon tightly to make a parcel.
Put the parcels on the barbecue and cook for 5-10 mins. Check one parcel to see how it's getting along but be careful – it will be hot. Once the salmon is cooked, open the parcels and scatter some sesame and spring onion into each.
Mix the cucumber with a few drops of sesame oil and season with a little salt. Serve the salmon with the cucumber salad.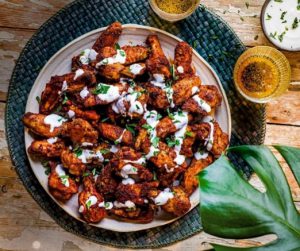 BBQ chilli chicken wings
4 tsp ground cumin
4 tsp paprika
4 tsp cayenne pepper
2 tsp fine sea salt
black peppercorns, crushed to make 1 /4 tsp
30 chicken wings, tips removed and jointed
a big handful oregano, chopped
YOGURT SAUCE
6 cloves garlic, crushed
3 tbsp lemon juice
300g natural yogurt
Prepare the BBQ for indirect cooking by heating up one side so that there is a hot side and a cooler side.
For the yogurt sauce, mix the garlic with the lemon juice in a bowl and set aside.
Combine the spices, salt and pepper in a bowl. Toss the wings with 3 tbsp of this mixture in another bowl. Cook the wings on the cooler side of the BBQ, with the lid closed, for 30 minutes, turning halfway through. Move the wings to direct heat, and cook for another 5 minutes, moving them around and turning to ensure even crisping.
Alternatively, heat the oven to 180C/fan 160C/gas and divide the wings between two trays. Roast for 45 minutes until cooked through. Heat the grill to high and transfer the wings to a large tray, discarding any cooking juices. Grill for 15-20 minutes, turning them every 3-4 minutes, until charred and crispy.
Finish the yogurt sauce by straining the lemon and garlic mixture through a sieve into the yogurt with a pinch of salt and mix well.
Toss the wings in the remaining spice mixture, then tip onto a platter and drizzle over some of the yogurt sauce, serving the rest on the side for dipping. Scatter over the oregano and serve.
Grilled pineapple – 2 ways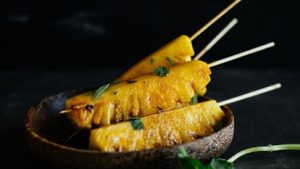 Grilled pineapple with cinnamon sugar and mint
A pineapple, peeled, cored and cut lengthways into 8 wedges
8 bamboo skewers, soaked in cold water for at least 30 minutes
1 tbsp softened butter
140 g(¾ cup) soft brown sugar
2 tsp ground cinnamon
pinch of sea salt flakes
mint leaves, to serve
Thread the pineapple wedges onto the skewers.
Preheat a barbecue grill to medium and lightly grease with oil.
In a small saucepan, cook the butter and brown sugar over low heat, stirring until melted. Add the cinnamon and salt and mix well. Remove from the heat.
Brush the sugar syrup over the pineapple wedges and cook on the grill for 3–5 minutes on each side, until caramelised.
Serve hot on a platter scattered with mint leaves.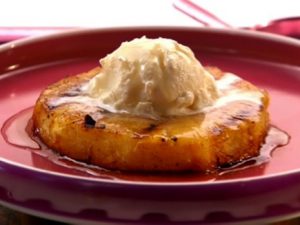 Paradise grilled pineapple
¼ cup fresh orange juice
1 tbsp fresh lime juice
1 tbsp honey
2 tsp cornflour
6 slices fresh pineapple, about 15mm thick each
Cracked black pepper
Vanilla ice cream
Prepare the grill for indirect cooking over medium heat (180° to 230°C).
Combine the glaze ingredients in a small saucepan. Place over medium heat on the stove top, and cook until thickened, 1 to 2 minutes, whisking until smooth. Keep the glaze warm or reheat when ready to serve.
Season both sides of the pineapple slices with the pepper. Cook over indirect medium heat, with the lid closed, for 3 to 4 minutes on each side.
Serve each pineapple slice with ice cream and glaze drizzled over the top.
Recipes and image sources:
www.delicious.com.au/recipes/lamb-zucchini-haloumi-burgers-sesame-salt/2783443d-7d25-4c9a-b3b1-bbe2ad7fddad?current_section=recipes
www.jamieoliver.com/recipes/cheese-recipes/griddled-vegetables-feta-with-tabbouleh/
www.jamieoliver.com/recipes/uncategorised-recipes/salt-pepper-tofu-skewers/
https://www.bbcgoodfood.com/recipes/soy-butter-salmon-parcels
www.olivemagazine.com/recipes/meat-and-poultry/chilli-yogurt-and-oregano-chicken-wings/
www.sbs.com.au/food/recipes/grilled-pineapple-cinnamon-sugar-and-mint
www.weber.com/AU/en/recipes/desserts/paradise-grilled/weber-202465.html
www.foodnetwork.com/recipes/melissa-darabian/honey-glazed-grilled-pineapple-recipe-1920898