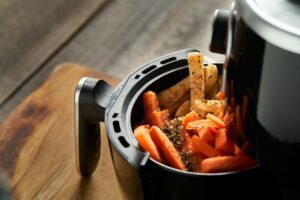 An air fryer is a kitchen appliance that cooks by circulating hot air around the food. The food is heated by convection which creates a crunchy, crispy exterior requiring minimal fat, making it both convenient and a lower fat method for cooking foods that you may normally deep fry. Air frying has many benefits including being relatively quick and easy, versatile, great for heating up leftovers, minimal clean up and energy efficient. Which is why, in recent years, so many have added an air fryer to their kitchen bench.
Air fryers aren't just limited to cooking your standard fried food in a healthier manner – as it is still classed as a fried food, and to be eaten in smaller quantities. Air fryers are great for cooking many healthy options too. We have found some quick and easy meals, sides, and snacks here for you to try your hand at, with a sneaky not so healthy treat too!
Spiced cauliflower
1 medium head of cauliflower
2 tbsp olive oil
1 tsp garlic powder
½ tsp smoked paprika
½ tsp turmeric
½ tsp black pepper
½ tsp salt
2 tbsp grated parmesan cheese
Cut the cauliflower into even sized florets, place into a large bowl.
In a small bowl, mix the garlic powder, smoked paprika, turmeric, parmesan cheese and salt and pepper together. Add the seasoning to the florets and toss until the cauliflower is fully coated. Add olive oil and toss the florets again to evenly coat cauliflower.
Preheat air fryer at 190C for 5 minutes. Place cauliflower in a single layer in air fryer basket and cook for 10 minutes or until golden brown.
Serve immediately.
Roasted chick peas
Can of chickpeas
½ tsp garlic powder
½ tsp onion powder
½ tsp Italian seasoning
Salt and pepper to taste
Spray of olive oil
Drain, rinse and dry chick peas and toss in a bowl with the spices and salt and pepper. Spray with olive oil and place into air fryer basket and cook for 10 minutes on 190C until golden and crispy.
Sweet potato fries
2 medium sweet potatoes, peeled and cut into 1/4″ sticks
1 tbsp extra virgin olive oil
½ tsp chili powder
½ tsp garlic powder
Salt and pepper to taste
In a large bowl, toss sweet potatoes, oil, chili powder, and garlic powder until combined and evenly coated. Season with salt and pepper, then toss again.
Working in batches, in the air fryer basket, arrange sweet potatoes in a single layer. Cook at 190C° for 6 minutes, turn over and continue to cook until browned and crispy, 5 to 8 minutes more.
Serve with your favourite sauce or make you own dipping by whisking 2 tbsp BBQ sauce, 2 tbsp mayonnaise, and 1 tsp hot sauce (optional) in a medium bowl, until combined.
Air Fryer Corn on the Cob
4 corn cobs
1 tsp Salt and pepper to taste
1 tsp all purpose seasoning of your choice, if desired.
1 tbsp extra virgin olive oil, or spray oil
Peel corn cobs, rinse, and pat dry. Cut cobs in half if they are too big for your air fryer.
Brush/spray each corn cob with olive oil. Season the corn with salt and pepper, and your favourite spices.
Preheat your air fryer to 200C for 5 minutes. Place the corn in the air fryer basket, making sure they are not touching each other. Cook for 10 minutes, turning corn halfway to prevent hot spots.
Air fryer zucchini, corn, and haloumi fritters
2 medium zucchini, coarsely grated
225g block haloumi, coarsely grated
150g (1 cup) frozen corn kernels, thawed
2 eggs, lightly whisked
100g (2/3 cup) self-raising flour
3 tsp fresh oregano leaves, chopped
Extra virgin olive oil, to drizzle (optional)
Natural yoghurt, to serve
Using your hands, squeeze any excess liquid from the grated zucchini. Place zucchini in a bowl and add haloumi and corn. Stir to combine. Make a well in the centre and add the egg, flour and oregano. Season and stir until well combined.
Preheat an air fryer to 200C for 5 minutes. Drop tablespoonfuls of the zucchini mixture onto the air fryer rack. Cook for 8 minutes or until crisp and golden. Remove and repeat with the remaining mixture.
Season the yoghurt with black pepper and drizzle over olive oil, if using, and serve with warm fritters.
Air fryer chicken fajitas
225g chicken breasts, cut into 1cm wide strips
1 large red or yellow capsicum, cut into strips
1 medium red onion, cut into strips
1 tbsp olive oil
1 tbsp chilli powder
2 tsp lime juice
1 tsp cumin
Salt and pepper to taste
Pinch of cayenne pepper, optional
Tortillas, avocado and sour cream for serving, optional
Preheat your air fryer to 190C degrees. Put the chicken strips, capsicum, onion, oil, chilli powder, lime juice, cumin, salt and pepper, and cayenne pepper (if using) in a bowl and mix.
Place the chicken fajitas in the air fryer basket and cook for 10-13 minutes, shaking the basket halfway through. The fajitas are done when the chicken hits 75C degrees at its thickest point.
Remove the fajitas from the air fryer, warm tortillas if needed, and serve with sliced avocado and sour cream.
Cheesy garlic bread
1 garlic bulb
Olive oil
2 tbsp butter, melted
Sourdough bread, sliced
Cheddar cheese, grated
Parsley, chopped (optional)
Slice the top of the garlic bulb, drizzle with olive oil, wrap in foil and air fry for 25 minutes at 180C or until tender.
Add roasted garlic to melted butter and mix well. Spread garlic butter on the sourdough bread slices, top with cheese and air fry for 5-6 minutes at 180C until golden. Garnish with parsley to serve.
Sources:
https://www.bbcgoodfood.com/howto/guide/air-frying-healthy
https://thefoodiephysician.com/why-you-need-an-air-fryer-in-your-life/
https://dailyyum.com/air-fryer-corn-on-the-cob/#recipe
https://www.delish.com/cooking/recipe-ideas/a28136123/air-fryer-sweet-potato-recipe/
https://www.taste.com.au/recipes/air-fryer-zucchini-corn-haloumi-fritters-recipe/52kdbect
https://www.everydayfamilycooking.com/air-fryer-chicken-fajitas/
https://www.loveandotherspices.com/air-fryer-cauliflower/#recipe
https://au.russellhobbs.com/recipes/sides-snacks-sauces/air-fryer-cheesy-garlic-bread