Considering train travel for your next holiday? Check out these luxurious train journeys from around the world! Read more here:
Nine of the most luxurious train Journeys from around the world
High-end train travel has always looked amazing, and most people have at least one train journey on their bucket list. Check out these amazing train journeys, not only are they luxurious they are also an amazing experience for the sights and senses.
The Ghan Australia
Travelling the 3,000-kilometre top-to-bottom journey between Darwin and Adelaide, the Ghan train service slices the ochre-hued centre of Australia, with stops at Alice Springs, where helicopter tours can be arranged, and the famous outback town of Katherine. The train's spacious cabins are finished in polished Tasmanian myrtle, while meals feature produce that reflects the best of the regions the train travels through and are accompanied by local wines. A highlight of the three-day journey is when the train passes through a narrow gap in the MacDonnell Ranges, which only accommodates the railway, the Todd River and a two-lane road.
The Royal Express Japan 
Japan has no shortage of luxury train journeys, and among its finest is the Royal Express, which plies a route between Yokohama (about half an hour from central Tokyo) and Shimoda City at the southern tip of Izu Peninsula. The 100-seater train does not have sleeping cars (on longer itineraries guests will stay in some of Japan's finest ryokan – a traditional Japanese inn), which means there is more space to explore. Finished in wood throughout, each carriage is uniquely styled and feature stained-glass windows, a bar with grand piano and a performance area for musicians.
Seven Stars Kyushu Japan
Another opulent option in Japan is Seven Stars Kyushu. The train travels through the country's most southerly main island, taking in volcanoes, beaches and cities including Oita, a spa resort known for its hot springs. On board are 12 ensuite rooms and two luxury suites, the finest of which features a rear window with an unbeatable view of the scenery rushing by. Cabins are decorated with aromatic hinoki cypress wood, bamboo blinds and paper screens. Dining is a highlight, with lunches consisting of what might be the world's most glamorous bento box – expect tiger prawns topped with caviar, and wagyu beef.
Rovos Rail South Africa 
South Africa's Rovos Rail has set the standard for luxury train travel since 1989, with five-course formal dinners served in wood-panelled carriages furnished with vintage lamps and leather banquettes. The main three-day route runs between Pretoria and Cape Town, but other trips include a 10-day safari in Namibia's otherworldly desert landscape and an epic two-week trip through southern Africa, which includes Victoria Falls and several game reserves. The Royal suites, which each take up half a carriage, are among the most spacious train lodgings in the world – with a Victorian roll-top bath in the ensuite.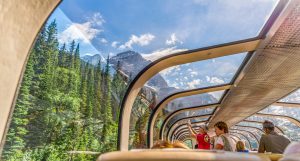 Rocky Mountaineer Canada and US 
Rocky Mountaineer train journeys can be linear or circular, with multi-day itineraries cutting through the spectacular Canadian Rockies or Whistler during the day and stopping at luxury hotels at night. The longest package is the 12-night Grand Rail Circle, looping back to Vancouver via Lake Louise and Quesnel. The train's calling card is its glass-domed carriages, which maximise the views of snow-capped mountains and redwood forests. After 30 years, the operator has expanded to the US. The Rockies to the Red Rocks route, which commenced this summer, is a two-day route between Moab, Utah and Denver, Colorado, with an overnight stay in the mountain town of Glenwood Springs.
Venice-Simplon-Orient-Express Europe
Few rail journeys can rival the prestige and extravagance associated with the Belmond Venice-Simplon-Orient-Express, which meanders from London to classic European capitals. The train's restored carriages date back to the 1920s and 30s and are duly decorated in a sumptuous Art Deco style. Dining features the finest fresh European produce, such as lobster from Brittany. Although the train is steeped in old-world glamour, the product is constantly reinvented; new for 2021 are three grand suites. Dedicated to the cities that have inspired their design – Vienna, Budapest and Prague – the cabins sit in the train's oldest carriage, built in 1926.
Eastern and Oriental Express South-East Asia
Another fine offering from Belmond is its south-east Asia train, which runs between Bangkok and Singapore or Kuala Lumpur. Green and gold carriages conceal interiors inspired by Shanghai Express, the 1932 film starring Marlene Dietrich, and feature cherry-wood panelling and soft Thai silks. The journey from Singapore kicks off in style, with guests met at Raffles and transferred to the train. For two nights, the train meanders through paddy fields and past temples, with stops at the River Kwai Bridge and the option of a cooking class in a rural village.
Belmond Andean Explorer Peru
The first luxury sleeper train in Peru cuts across one of the highest rail routes on the planet and provides a spectacular setting from which to admire views of Cusco, Lake Titicaca and Arequipa. The train, which launched in 2017, goes all out with two dining cars where passengers tuck into high-end takes on classic Peruvian food. The Andean Explorer sports a contemporary look – think cream-coloured walls and colour pops of woven Andean cushions. After a day spent exploring some of the country's greatest hits, retreat to the spa car for a massage.
Maharajas' Express India
India is brilliantly seen by train, with UNESCO World Heritage sites standing majestically on sandy terrains, ancient cities glowing against pink sunsets, and lush forests hiding many animal species. The Maharajas' Express provides plush surroundings that may not quite rival those Indian palaces – but is not far off. Indeed, the Presidential Suite has two bedrooms and a 24-hour personal valet service. There are a number of itineraries, including the seven-night Indian Panorama, which starts in Delhi and stops for a tiger-spotting game drive at Ranthambore National Park before heading up to Agra and the Taj Mahal and on to Varanasi for a boat trip on the Ganges.
Originally sourced from – cruisepassenger.com.au/travel/full-steam-ahead-the-worlds-most-opulent-train-journeys/