Who COTA is and what we stand for COTA Membership
For over 50 years, COTA has been the peak body representing the interests and views of older Australians. We put people before profit, and advocate, inform & influence both Federal, State & Local Government, the business sector and the general community to deliver better outcomes for people aged 50 and over. Our members are represented by COTA because we are invited to sit on a wide range of forums, committees, consumer advisory groups and research bodies, both Government and non-Government. These are groups that have the power to bring about change.
Click here
to read more about how we are representing you at a federal level. There is a COTA in each state and territory. When you join COTA you will become a member of your local COTA.
Help make a Difference
COTA provides opportunities for members to directly contribute to the identification of issues and the development of policy and it undertakes research to seek their views to bring about change. We ask our members "what makes a better life for you?" and then we act on that information. When you become a COTA Member you will also receive a range of benefits to thank you for your support.
Participate in our Various Programs
Our members participate in various programs and events, and are provided with opportunities to improve their lifestyle and well-being and to increase their participation in the community. We also help raise awareness of the contributions that older Australians continue to make. Cock here to see what's happening at COTA in your state or territory.
Access to Rewards & Savings Programs
COTA members receive a personalised membership card providing access to The COTA Rewards and Savings Program, which incorporates The Ambassador Card —Australia's premier member benefit program. This provides a wide range at benefits and services, which saves them money and improves their well-being.
Be Part of a National Organisation
COTA provides its members with the chance to belong to an organisation that works with them and for them.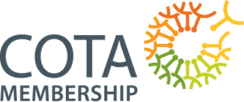 We're on a mission to advocate, inform & influence government, the business sector and the community for better outcomes for people over 50.
Anyone wishing to support our cause can join COTA, irrespective of their background or where they live within Australia. An engaged and growing membership enables COTA to become a stronger and more influential organisation when fighting for better outcomes for older Australians.
We invite you to become a COTA member today.
Join Now
Renew COTA Membership
Already a COTA member?
Renew your membership and update and details that may have changed.
RENEW MEMBERSHIP
COTA Membership FAQs
Have a question about COTA Membership?
VISIT FAQ