Australia is full of some amazing sights, landscapes and real natural wonders. Check out our top 20 Australian natural wonders here!
Australia is full of some amazing sights, landscapes and real natural wonders. While we cannot venture overseas, we can all take advantage of travelling around our own beautiful country (excluding border restrictions) and maybe even come across one of these amazing Australian natural wonders. Start planning your next trip now!
NEW SOUTH WALES
THE THREE SISTERS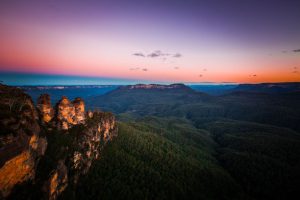 Three Sisters, Blue Mountains, New South Wales 
Only a 2 hour drive from Sydney, The Three Sisters, located in Katoomba in The Blue Mountains, is a strikingly unusual rock formation. The tallest of the sisters stands at over 920m above sea level.
 
DARK SKY PARK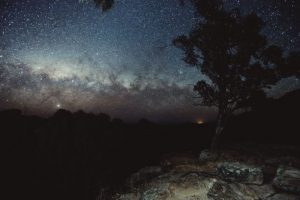 Dark Sky Park, Warrumbungle National Park, New South Wales 
Almost 500kms from Sydney, Dark Sky Park is located in the picturesque Warrumbungle National Park. It is perfect for stargazing due to the high altitude, low humidity, crystal-clear skies and low light environment.
NORTHERN TERRITORY
LITCHFIELD NATIONAL PARK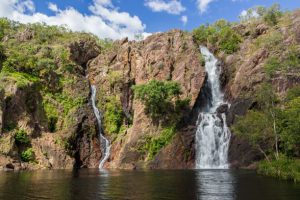 Wangi Falls, Litchfield National Park, Northern Territory 
A 2 hour drive south of Darwin will get you to Litchfield National Park. Filled with beautiful waterfalls and waterholes that are surrounded by monsoonal vine forests. Wangi Falls is one of the most popular places to visit and swim.
KINGS CANYON
Kings Canyon, Northern Territory 
Approximately 4 hour drive from Alice Springs is the incredible Kings Canyon. Make sure you do the canyon rim walk, the views are amazing.
 
ULURU AND KATA TJUTA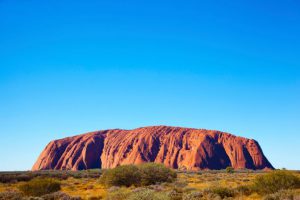 Uluru, Uluru-Kata Tjuta National Park, Northern Territory 
A 5 hour drive from Alice Springs will have you arrive at Uluru-Kata Tjuta National Park, the home to both Kata Tjuta (the Olga's) and Uluru (Ayres Rock). A Must see for any Northern Territory Holiday.
QUEENSLAND
THE GREAT BARRIER REEF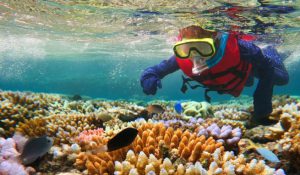 The Great Barrier Reef, Queensland 
Off the coast of Far North Queensland, The Great Barrier Reef is the world's largest coral reef system, stretching 2300kms, from Bundaberg to the tip of Cape York. The best time to visit is in the dry season, June to October, with many locations to visit the reef including Cairns, Port Douglas, Airlie Beach and Bundaberg.
 
FRASER ISLAND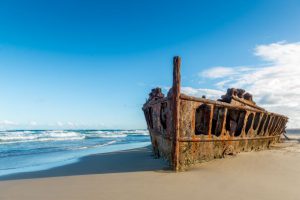 Fraser Island, Queensland
The world's largest sand island, Fraser Island, is approximately 350kms north of Brisbane.  With freshwater lakes, rainforest and home to many native species including, most famously, the purest species of dingo in Australia.
SOUTH AUSTRALIA
KANGAROO ISLAND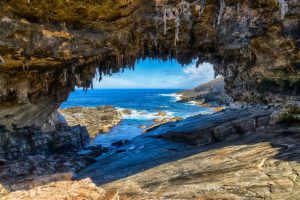 Kangaroo Island, South Australia
One of Australia's best loved islands, Kangaroo Island is a nature-lover's paradise. It is renowned for its rugged landscape, scenic beaches and its many wildlife inhabitants. A must for any South Australian visit.
NARACOORTE CAVES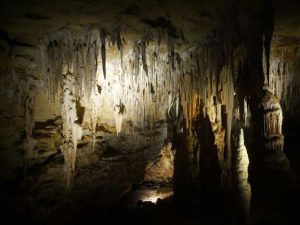 Naracoorte Caves, Naracoorte Caves National Park, South Australia
Almost 4 hours from Adelaide, near the Victorian border you can find one of the world's major fossil sites, where half a million years ago, giant marsupials fell into the caves. Four of the caves at this subterranean spot are open to the public. The caves are full of stalagmites and stalactites, fossil sites and are even open for adventure caving.
GREAT AUSTRALIAN BIGHT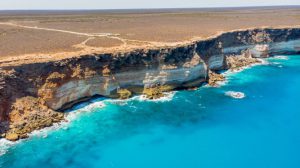 Great Australian Bight Marine Park, South Australia
Standing on top of the expansive Great Australian Bight cliffs gives you the most spectacular views. Located on the remote southern edge of the Nullabor Plain, the Bunda Cliffs are between 60 and 100m in height. You may even get lucky and see Southern Right Whales migrating, if you visit between May and October. The park is also home to around 80% of Australia's native sea lion population.
TASMANIA
FREYCINET NATIONAL PARK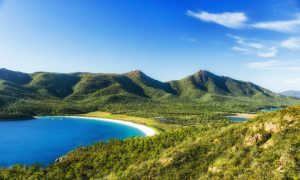 Wineglass Bay, Freycinet National Park, Tasmania
A picturesque peninsular, only 2.5 hours drive from Hobart, that showcases pink-hued granite mountains and the white sands and calm, blue waters of Wineglass Bay.
DOLERITE SEA CLIFFS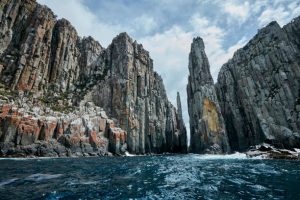 The Candlestick, Cape Hauy, Tasman Peninsula,
A 2-hour drive from Hobart will get you to the bottom of the Tasman Peninsula and the enormous Dolerite Sea Cliffs. In Cape Hauy, you'll also find The Candlestick and The Totem Pole, that come out from the ocean and reach into the sky. A coastal cruise is a great way to marvel at all the bizarre rock formations.
CRADLE MOUNTAIN
Cradle Mountain, Lake St Clair National Park, Tasmania
Tasmania's iconic Cradle Mountain is approximately 150kms west of Launceston. The state's World Heritage Area also includes Australia's deepest freshwater lake – Lake St Clair, ancient rainforest and a plentiful range of native animals.
VICTORIA
THE GRAMPIANS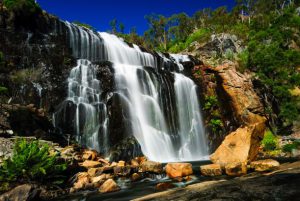 MacKenzie Falls, Grampians National Park, Victoria
Only a 3 hour drive from Melbourne, the Grampian National Park is known for its stunning views, sandstone mountains, wildflowers and wildlife. Mackenzie Falls is a must see as is the 2.5-hour return hike that ends in an incredible view of tree covered mountains, blue lakes and vast valleys.
THE GREAT OCEAN ROAD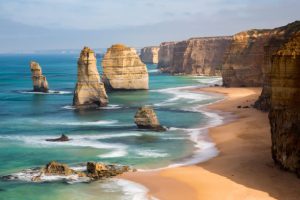 Twelve Apostles, Great Ocean Road, Victoria
Starting along the coast, only 1.5 hours drive west from Melbourne, the Great Ocean Road is packed with coastal views, ancient rock formations and stunning beaches. Includes the impressive sights of Loch Ard Gorge, the 12 Apostles, Gibson Steps and London Bridge.
WESTERN AUSTRALIA
THE PINNACLES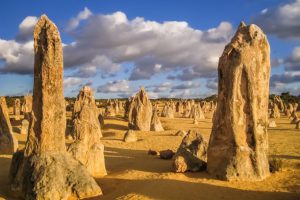 The Pinnacles, Nambung National Park, Western Australia
A two-hour drive north from Perth, formed 25,000 – 30,000 years ago The Pinnacles is a huge collection of giant limestone pillars, some up to 5m tall.
NINGALOO REEF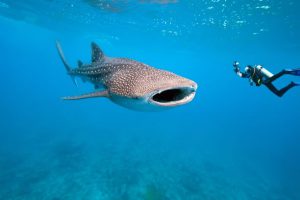 Whale Shark, Ningaloo Reef, Western Australia  
Take a 2-hour flight from Perth to visit the elusive Whale Sharks at Ningaloo Reef. A 260km long coral reef full of turtles, tropical fish, manta rays, humpback whales and Whale Sharks. March to August is the best time to swim with the whale sharks.
SHARK BAY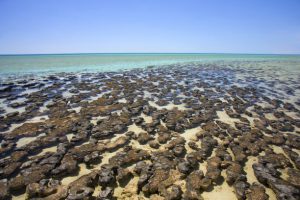 Stromatolites at Shark Bay, Western Australia
Over 700 Km's north of Perth is Shark Bay, which is made up of a W shaped coastline, islands and plentiful wildlife.  Full of much beauty including the world's most diverse sea grass – Stromatolites.
WAVE ROCK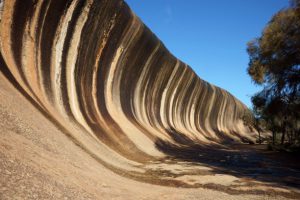 Wave Rock, Western Australia
4 hours east of Perth by car is Wave rock, a 2.6 billion year old rock that looks like an ocean wave. A very special indigenous place located in Hyden Wildlife Park.
HORIZONTAL FALLS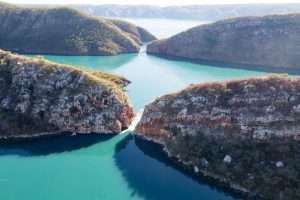 Horizontal Falls, Talbot Bay, Western Australia
The Horizontal Falls are in fact tidal waterfalls, which swell up to 13 metres as the water pushes in and out of the Indian Ocean through narrow cliffs. Around 270km from Broome, many experience these falls via seaplane.
Explore Australia now!
Join us on a range of exciting holidays in the NT, NSW, QLD & SA in 2020! Contact COTA Holidays about their amazing range of last-minute deals for 2020 or book early & save on an extensive range of holidays for 2021. Visit the COTA Holidays website for more information.
References
www.loveexploring.com/gallerylist/91760/40-of-australias-most-stunning-natural-wonders
edition.cnn.com/travel/article/australia-natural-wonders/index.html
www.queensland.com/au/en/places-to-see/experiences/great-barrier-reef/accessing-the-reef.html
www.australia.com/en/things-to-do/nature-and-national-parks/australias-top-natural-attractions.html
www.escape.com.au/destinations/australia/australias-20-greatest-natural-wonders/image-gallery/25913154ef856703577e82e4674d399d?galleryimage=10