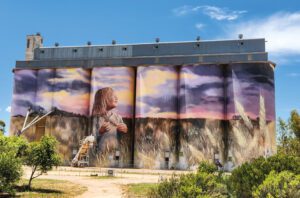 Australia is home to some truly unique grand scale paintings with more than 50 grain silos adorned with jaw dropping art. The best part is that you can access this art freely, all year round, day and night, by road tripping around the country's highways and back roads.
With 54 silo art locations and over 140 water tower art locations, every state and territory in Australia has silo or water tower art. Many travellers are incorporating rural destinations into itineraries, to include them in their travels while also helping to boost the economies of these small communities.
Since 2015 when the first silo mural was painted in Northam Western Australia, the concept of using these giant structures as art canvases to draw visitors to rural areas has spread around the country and enabled rural communities to benefit.
The themes on many of the silos around the country, feature local people, landscapes, flora and fauna and they encourage and welcome travellers to stop a while and learn more about the locality. This all has a positive flow on effect with local businesses benefiting from the visitors stopping. In many cases the silo art has also benefited the general look of a town with seating, viewing areas and landscaping, all enhancing the local area. It has also encouraged more interaction between the townspeople and visitors with the silo art being a big topic of conversation.
In some towns, silo art is having an even bigger return on investment with elements of the artwork changing from day to night, and flood lighting at night giving visitors a different perspective and encouraging overnight stays. This of course again benefits local business such as the caravan and camping parks.
All credit though goes to the artists responsible for these amazing works of art, which must be seen to be truly appreciated. The scale and details will leave you in awe of their talent and wanting to discover more.
Why not check out some silo art on your next road trip!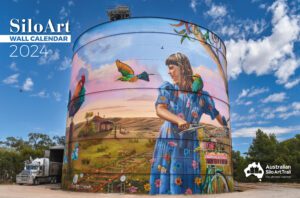 Win a 2024 Silo Art Calendar
You can win 1 of 5 2024 Silo Art Calendars by sharing your 2023 travel adventure in 300 words (or less). Email your travel adventure to COTA Connects via [email protected] with your story and any photos. We will include the 5 top stories in future editions of COTA Connects.
More Information:
For guides and maps on where to see silo art, visit Australiansiloarttrail.com and for year-round viewing at home, you can buy the Australian Silo Art calendar from www.siloartstore.com.
Your calendar purchase will help regional communities, with 50% of the profits donated back to the 12 communities featured.
SILO ART FUN FACTS!
The Australian Silo Art Trail stretches over 8,500km, beginning in Northam, WA and
ending in Three Moon, Qld.
The first silo to be painted in Australia was in Northam, WA in March 2015.
Artist Heesco Khosnaran has painted five silo's – Weethalle, Grenfell, Karoonda, Gunnedah and Murrumburrah on both sides.
Five silos have been painted by women – Rupanyup, Tungamah, Rosebery,
Brunswick and Albany.
Currently, the painted water tower collection stands at well over 140.